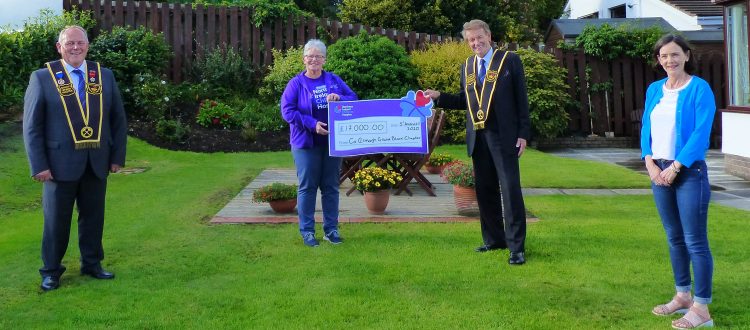 Sir Knights in Co Armagh raise £17k for Children's Hospice
A mother whose two sons died from a rare genetic condition has praised the County Armagh Grand Black Chapter after it raised £17,000 for the Northern Ireland Children's Hospice.
Jenny Irwin's sons, Jack and Michael, defied the odds to live into their teenage years after being diagnosed with Metachromatic Leukodystrophy as young boys aged six and two. The disease affects the nervous system, leaving the sufferer totally dependent on others.
The Irwin family, from outside Benburb, received tremendous support from the Northern Ireland Children's Hospice during Jack and Michael's illness, and Mrs Irwin was delighted to see thousands of pounds donated to a charity which is close to her heart.
"When I see that amount of money donated to the hospice, I just think it's fantastic," said Mrs Irwin.
"It's so thoughtful and kind, and it really will help families who are in turmoil.
"The charity work that the Royal Black Institution does is great, and they probably don't get the praise they deserve. It's clear that the Royal Black isn't just about parading on the Last Saturday, it is a caring organisation."
Jack was 15 when he died in 2010, and Michael was 14 when he passed away in 2014.
"I don't know how we would have coped if we didn't have the support of the Hospice," said Mrs Irwin.
Mrs Irwin was invited along to the cheque presentation ceremony by County Armagh Grand Master, Right Worshipful Sir Knight David Livingstone.
He explained how, during coronavirus lockdown, there had been many examples at Preceptory and District levels of initiatives which had provided much-needed support to individuals, caring organisations and NHS staff.
However, concern was expressed at County level in Armagh regarding the impact the pandemic was having on the fundraising activities of hospice charities, and after careful consideration it was decided to launch a County appeal for the NI Children's Hospice.
"The response from the Districts, Preceptories and individual Sir Knights was wonderful to say the least," said Sir Knight Livingstone, who is also the Imperial Grand Treasurer.
"At a time when no meetings were taking place and the usual lines of communication were not available, a total of £17,000 was raised.
"We are so grateful to our members for their generosity and willingness to support the work of the Children's Hospice. This amount was not achieved through fundraising events but rather by direct giving and a real desire to support our wider society in these most difficult of days."
The cheque was presented to Catherine O'Hara, Partnership Programme Manager for the Children's Hospice, by County Grand Treasurer Sir Knight Raymond Walker.
Ms O'Hara said: "We want to thank every single member of the Royal Black Institution for this wonderful gift.
"Your donation of £17,000 will help us continue to give babies and children, like Jack and Michael, the best possible care in our Children's Hospice. Without your help we would not be able to help families like the Irwins, so we are deeply grateful for your generosity."