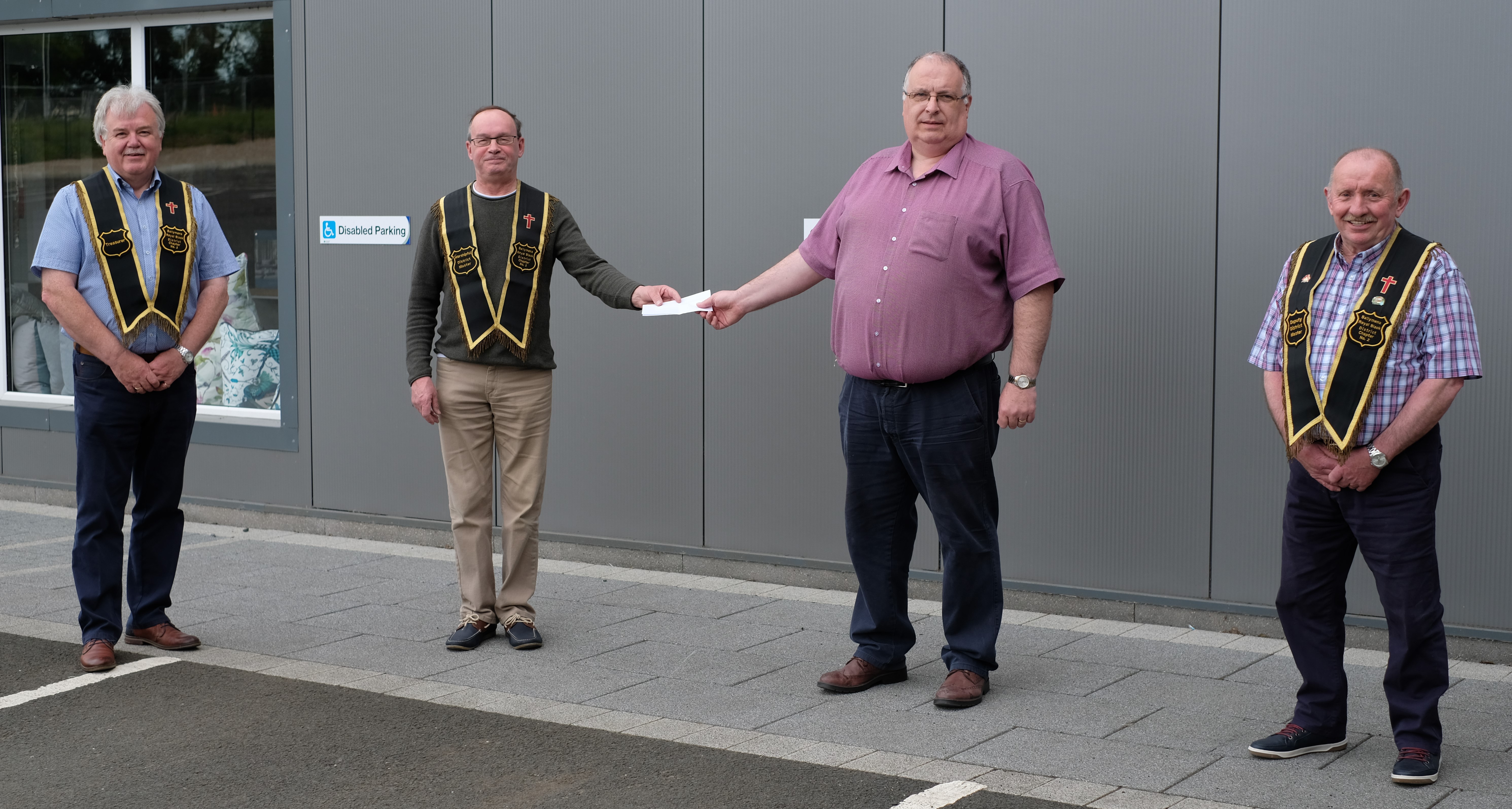 Covid-19 relief effort produced thousands of PPE items
A top official in the Royal Black Institution has offered his heartfelt thanks to everyone who got behind his coronavirus relief effort in Co Antrim, which raised almost £50,000 and produced more than 55,000 face visors, over 4,000 pairs of scrubs and around 4,000 litres of hand sanitiser.
Assistant Sovereign Grand Master Harold McCloy oversaw an army of volunteers who helped him assemble the much-needed PPE items and deliver them to hospitals, care homes and other locations across Northern Ireland.
The first stage of the Ballymena businessman's project – in the early days of lockdown – involved the sourcing and cutting of fabric to make scrubs.
A talented band of around 75 volunteer stitchers from across across Mid and East Antrim weaved their magic and turned the cloth into over 4,000 sets of scrubs.
Donations were also pouring in, and soon exceeded the initial target of £16,000 which was needed to cover the cost of buying the fabric.
And so, with the excess funds, Sir Knight McCloy and his team began the second phase of their relief effort – face visors!
After talks with plastics manufacturer, Brett Martin, Sir Knight McCloy was able source a weekly supply of the clear plastic screen needed to make the visors.
"Approximately 55,000 visors were produced initially," he said.
"We also purchased cubes of sanitiser and set up a bottling process. A total of 4,000 litres of sanitiser was bottled, packed and delivered.
"Other items bought in pallet quantities included face masks and vinyl gloves.
"We then invited groups that had donated money to come back and take away the PPE items, and donate them locally into care homes and anywhere they felt needed the supply. In the end, most care homes across Co Antrim received items of some description from this project.
"We also added washable face masks to our list and were delighted to donate 200 masks to the outreach group, Gospel Goal. The masks were branded with a short text of scripture."
The project received almost £50,000 in total. As each donation arrived, the money was re-invested into buying more raw materials and stock. Any surplus funds will be handed over to charity or used to make more PPE should the coronavirus situation in Northern Ireland escalate over the coming months.
"We had such a positive response – the whole project has been very uplifting," said Sir Knight McCloy.
"We have had many letters and phone calls from care homes thanking us for our help. It certainly touches the heart strings when you deliver a van-load of PPE to a care home that lost patients to this awful virus.
"Without all the volunteer stitchers and helpers, the initial project could never have been completed in record time. To them, I am eternally thankful.
"We express our thanks to all the nursing staff in hospitals, care homes, and community carers – we were delighted to give them a little help during the huge and challenging job they undertook every day of the pandemic.
"To all the personal individuals, lodges, preceptories, ABOD clubs or anyone that donated – without you, all this would not have been possible!
"To my fellow officers in Imperial, County Antrim and Ballymena Royal Black District, I am also thankful.
"And I simply have to mention my good friend Sir Knight David Gordon, DCGM, Co Antrim, who was the man that started the ball rolling and suggested that fundraising be done.
"Thanks David, without your input the project might never have reached the heights it did!"