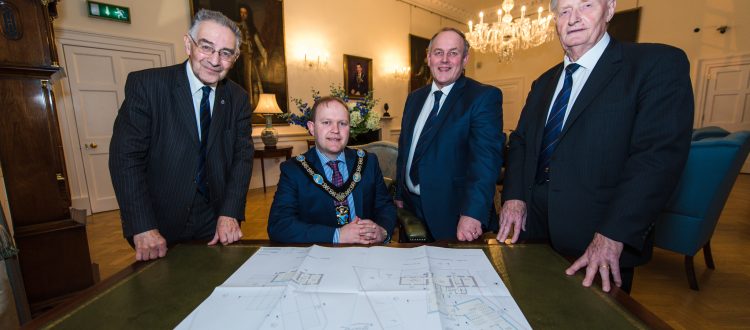 Lord Mayor hosts Sir Knights at Palace reception
Senior members of the Imperial Grand Black Chapter have attended a special reception in Armagh, hosted by the Lord Mayor, Alderman Gareth Wilson.
The event, held in the parlour of the council offices at the city's Palace Demesne, took place following the Loyal Institution's announcement earlier this year it was developing new headquarters in nearby Loughgall.
During the reception, the Lord Mayor was shown detailed plans for the facility in the conservation village, which will incorporate administration and meeting amenities, a library, and a small-scale interpretative centre to showcase historical artefacts. It is planned the new headquarters will be fully operational by the end of next year.
Sovereign Grand Master Millar Farr expressed his gratitude to the Lord Mayor for kindly hosting the event.
He said: "We are indebted to the Lord Mayor of Armagh City, Banbridge and Craigavon Borough Council for his kind invitation to the Palace Demesne.
"We were delighted to be afforded the opportunity to outline to Alderman Wilson our plans for the redevelopment of 'The Tavern' in Loughgall. We were also very pleased to share personally with the Lord Mayor our vision and aspirations for what is a historic milestone for the Imperial Grand Black Chapter.
He added: "The Institution has a longstanding association with Co Armagh, given our well-established tenancy at Brownlow House in Lurgan. We look forward to maintaining and enhancing that connection with our first-ever purpose built administrative hub; providing a contemporary facility in Loughgall, not only for our members but also the wider community."
Lord Mayor Alderman Gareth Wilson said: "This is a very exciting and important development for our Borough and indeed for Co Armagh and Loughgall village itself. The village has such a rich Loyal Order heritage and the plans for the new headquarters published by the Imperial Grand Black Chapter will add significantly to the historical assets of the area."
He added: "I wish the Sir Knights well as they press ahead with their important plans and it was great to be able to host the Institution at the Palace to launch this project."