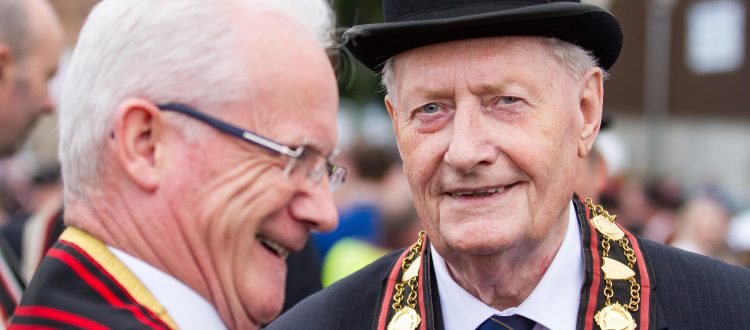 Millar Farr to step down as Sovereign Grand Master
Sovereign Grand Master of the Royal Black Institution, Millar Farr, will formally step down from the role next month, it has been confirmed.
The Cookstown man, 76, has been the leader of the Loyal Order for the past decade, having succeeded the late William Logan MBE in 2008.
Mr Farr's successor will be elected at the meeting of the organisation's ruling Grand Council, scheduled to take place on June 16.
Mr Farr said: "Having served in the role for 10 years and after careful consideration, I believe now is the appropriate time to step down as Sovereign Grand Master. It has been an immense honour to have served and represented the membership and promote the Christian ethos and cultural heritage of the Imperial Grand Black Chapter."
During his tenure the Institution has centrally raised upwards of £500,000 for various good causes in its biennial charity appeal. Earlier this year, it was also confirmed the Loyal Order would be establishing new headquarters in Loughgall. The Co Armagh facility – incorporating an interpretative centre – is due to open to the public in 2020.
Mr Farr continued: "I am extremely proud to have led the organisation through a significant period in its long and distinguished history, and in so doing, follow in the footsteps of some wonderful ambassadors. Most notable is the acquisition of a new headquarters – under the ownership of the Institution for the first time – which is a
landmark juncture and in due course will symbolise an exciting new era for the Royal Black.
"One of the most rewarding aspects of my tenure was undoubtedly the endless charitable outreach of our membership, who selflessly and willingly raised – and continue to do so – substantial funds for an array of deserving causes. Such Christian compassion and kindness is deserving of the utmost praise and admiration."
Mr Farr also highlighted improved communication within the Institution, and with the wider public, through the introduction of a biannual magazine and more recently, the launch of an enhanced online and social media presence, as other standout developments.
He added: "Never would I have imagined when I joined the Institution almost 50 years ago that I would one day have the opportunity to lead it – it has been a truly humbling experience and a great privilege."
Imperial Grand Registrar, Billy Scott, paid tribute to Mr Farr on behalf of the membership.
He said: "It has always been a pleasure to work with Millar during his term of office. He has always been a model of courtesy and helpfulness to everybody. He has provided wise, shrewd and stable leadership for the Institution over the duration of the past decade and has steered a course which has kept the organisation true to its principles, but also in the mainstream of community life within the Province."
Mr Scott also reflected on the outgoing Sovereign Grand Master's legacy.
"The new headquarters ushers in a new era for the Institution. Millar's guidance and leadership has brought us to that point. Our charitable endeavours are well established, but Millar developed and built upon the innovations of his predecessor, Billy Logan, and it is now firmly established as one of the major activities of the institution's outworkings."
He added: "On behalf of all of our members, I wish to thank Millar for his exemplary leadership; astute guidance, and selfless service over the past 10 years."