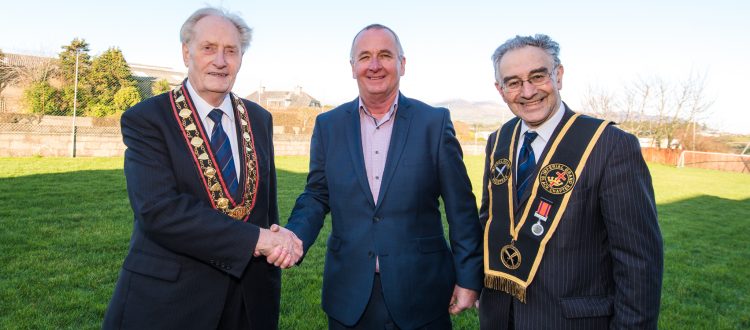 Royal Black to support child evangelism project
The Royal Black Institution is teaming up with a local Christian outreach organisation to bring the gospel to children and young people in its latest charity appeal.
Proceeds from the Loyal Order's biennial fundraiser will support Child Evangelism Fellowship (CEF), it has been announced.
All funds raised will go towards the major redevelopment of one of the charity's existing camp and conference centres, located in Kilkeel, Co Down. The new state-of-the-art Seaview facility will cater for youth and school groups, churches and the local community, providing a modern recreational facility for thousands of children and young people.
Millar Farr, Sovereign Grand Master of the Royal Black Institution, said he was delighted the organisation could offer assistance to such a worthy project.
He said: "This partnership with CEF will serve as a further extension of both our Christian and charitable outreach. We are thrilled to support such an exciting venture which will enrich the lives of children across Northern Ireland and beyond availing of the marvellous new proposed camp and conference facilities in Kilkeel.
"I have no doubt the members of our Institution will rally behind our latest appeal and once again underpin our proud charitable record. In so doing, they will also leave a lasting legacy for a new generation of young people utilising the tremendous services and spiritual assistance provided by CEF."
David Edwards, National Director of CEF in Ireland, said: "CEF aims to teach the Bible to children and young people in a fun and engaging fashion, encouraging the children to become followers of the Lord Jesus Christ. The financial assistance from the Royal Black Institution will be of immense help and we are extremely grateful.
"Young people from all strata of our society will be made welcome in our new purpose-built centre and have the opportunity to hear God's Word being taught in a manner relevant to them. As an interdenominational organisation, CEF has an international presence, working in over 190 countries around the world and many CEF workers from other nations may benefit from training in the new centre also."
The 2018 appeal will build on the Institution's distinguished track record in charity work, having raised in excess of £700,000 for a variety of good causes since 2002.
Last year, the Imperial Grand Black Chapter presented over £100,000 to Macmillan Cancer Support.
Other previous recipients have included the Chest, Heart and Stroke Association; Action MS; Open Doors Ministry in Sudan; Diabetes Research; Kiwoko Hospital, Uganda; Alzheimer's Society; the Bible Society and Mission Aviation Fellowship.