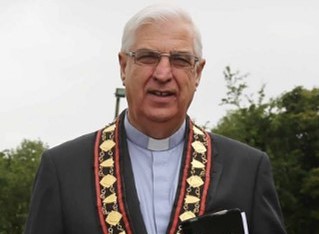 A message from Sovereign Grand Master Rev William Anderson
For the second year in a row, what would normally be a huge day in the Institution's calendar is set to be a much more low-key affair.
Our processions in Scarva and Bangor have been cancelled due to Covid as we continue to play our part in helping curtail the spread of the virus.
Last year, all summer demonstrations were cancelled in order to protect the health of our members, families, friends, supporters and wider community.
At that stage, we had hoped that normal service would be resumed in 2021.
Alas, however, Covid is still with us, and bringing thousands upon thousands of people to a particular location is not a feasible option.
Thanks to God's grace, the vaccine roll-out has created the conditions whereby we are able to hold smaller, localised parades, and our witness for the Reformed Christian Faith in towns and villages can continue.
Yes, it is disappointing that there is no Sham Fight in Scarva today, nor is there a procession in Bangor, but I personally am extremely thankful that I can join with Sir Knight Alfred Buller Memorial RBP 1000 for a service and wreath-laying event in Scarva, while other preceptories and districts will be holding small parades today also.
Put your faith in the Lord, leave your fears and worries with Him, and be assured that He knows your every need. We will meet together again in huge numbers to worship our Lord when it is safe to do so.
May God bless all members of our Institution today, and throughout the summer.
Rev William Anderson
Sovereign Grand Master