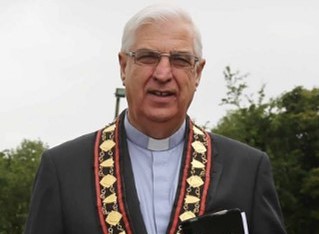 A message from Sovereign Grand Master Rev William Anderson
I would like to take this opportunity to wish everyone a happy and glorious Twelfth.
We give thanks to Almighty God that although today's Twelfth demonstrations might be on a much smaller scale than normal, at least circumstances have improved with coronavirus to such an extent that we are able to hold parades and religious services, and celebrate that momentous victory for civil and religious freedom won by King William III Prince of Orange at the Battle of the Boyne in 1690.
Today is also an opportunity to celebrate Northern Ireland's centenary and our place in the United Kingdom – and we trust in the Lord that another 100 Twelfths will be enjoyed in our beloved Northern Ireland over the next century, and many more to come thereafter.
Unfortunately, for many of us, today will be tinged with sadness as we reflect on that fellow Orangeman or woman, bandsperson or family member, who is no longer with us because they were taken by Covid. Their families should be assured that our thoughts and prayers continue to be with them as they grieve their loss. We pray that they will find comfort and solace in the arms of Christ, remembering that He is a healer and confidant to all who truly turn to Him.
The Orange Order – along with the other Loyal Orders, including the Royal Black Institution – played a responsible, pro-active role throughout the pandemic. Meetings and parades were sacrificed for the greater good, to protect the health and wellbeing of all our citizens. We pray that brighter days lie ahead, when the Loyal Orders can once again welcome huge crowds to their demonstrations in a safe and secure environment.
In the meantime, this year, enjoy your localised Twelfth with family and friends.
Rev William Anderson
Sovereign Grand Master