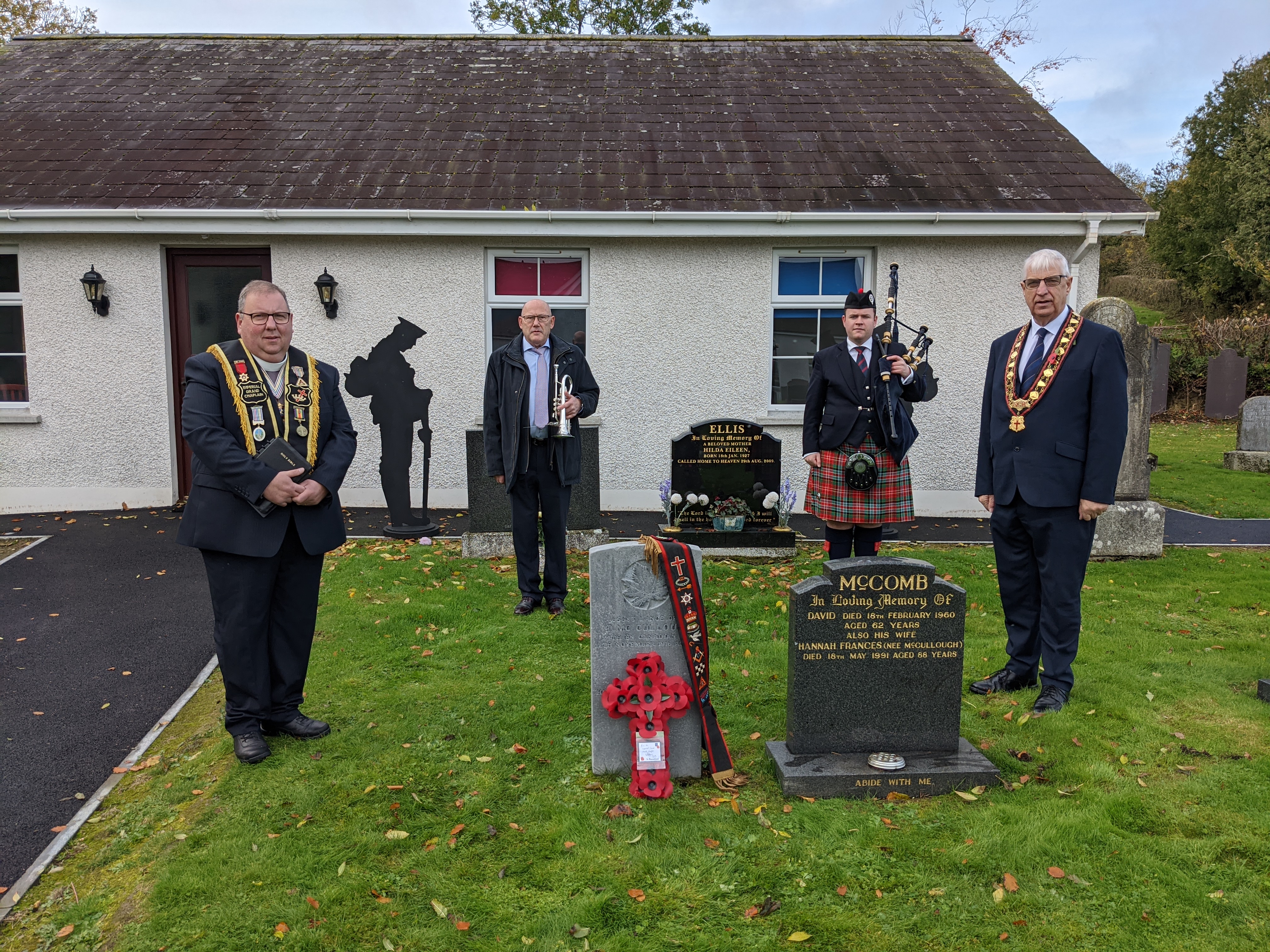 Time to Remember: Royal Black Institution lays poppy wreath at grave of WW1 soldier
The leader of the Royal Black Institution has paid tribute to a Sir Knight who fought and died in the First World War.
Sovereign Grand Master, Rev William Anderson, attended an Act of Remembrance at the grave of Sir Knight Thomas McCullough in Co Armagh.
Lance Corporal Thomas McCullough died from his wounds after fighting in the Battle of the Ancre Heights in 1916 and is buried at Mountnorris Presbyterian Church.
He was a member of the Royal Black Institution, having joined Mountnorris RBP 274, before emigrating to Canada in 1913.
At the outbreak of the Great War, Sir Knight McCullough answered the call of King and Country and joined the Canadian army.
Last month, on behalf of the Institution, Rev Anderson laid a poppy wreath in the shape of Red Cross at the grave of Sir Knight McCullough.
The event formed part of the Royal Black Institution's "Time to Remember" season, which over the next few weeks and into the New Year will look back and give thanks for those who paid the supreme sacrifice in defence of democracy and the freedoms we enjoy today.
Rev Anderson said: "It was a truly humbling experience to attend Sir Knight McCullough's grave and lay a wreath on behalf of the Royal Black Institution.
"Many members of our Institution have died serving their country in various theatres of war down the decades, and we remember them all with pride."
The short, socially-distanced Act of Remembrance was organised by Imperial Grand Chaplain, Rev Nigel Reid.
Rev Reid is minister of Mountnorris and Tullyallen Presbyterian Churches, and his interest was piqued when he noticed that Mountnorris had a World War One Commonwealth War Grave.
After he got speaking with some of Thomas McCullough's descendants and discovered that the Great War soldier had also been a member of the Royal Black Institution, Rev Reid was hooked on researching the story even further.
The Imperial Grand Chaplain established that Thomas McCullough was born on March 20, 1895, the second of six children belonging to Thomas James and Susan McCullough, of Tullyallen House, Mountnorris.
A pupil at Derrycughan Primary, he also attended Mountnorris Presbyterian Church and Sunday School.
It's understood that Thomas worked as a labourer. He was a member of Mountnorris Royal Black Preceptory 274.
In March 1913, Sir Knight McCullough walked down the lane of Tullyallen House for the last time and left his family and home behind as he made his way Londonderry to take a ship to Canada, and create a new life for himself on the other side of the Atlantic.
The world changed dramatically, of course, the following year with the onset of the Great War. Canada fully supported the war effort, and like so many young men, Sir Knight McCullough answered the call of the British Empire and enlisted in the 24th Battalion Victoria Rifles of Canada, an Infantry Regiment that was a part of the Canadian Expeditionary Force.
In 1915, Sir Knight McCullough, along with his regiment, sailed to France and disembarked at Boulogne.
He was to experience horrific warfare but throughout it all he kept in touch with his loved ones back home in Mountnorris.
It was on October 10, 1916 while fighting in the Battle of the Ancre Heights that Sir Knight McCullough was wounded on the battlefield. He was transferred to the Queen's Canadian Military Hospital, Kent, where he was treated for his wounds and Septicemia. Sadly, Lance Corporal Thomas McCullough was to lose his earthly life at 9.30pm on November 12, 1916.
His father and brother travelled to Kent and brought his remains back home.
Sir Knight McCullough was buried on November 18, 1916 at Mountnorris Presbyterian Church with full military honours.
The Commonwealth War Graves Commission later erected a headstone to mark his burial place.
"I felt it was important to tell the remarkable story of someone who was from our community here in Mountnorris, and who was also a member of the Royal Black Institution," said Rev Reid.
"Sir Knight McCullough's generation gave so much, and we must never forget their bravery and sacrifice."