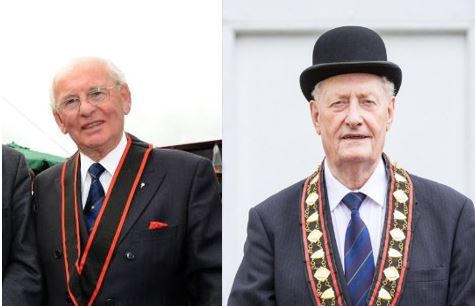 Sir knights to pay tribute to former grand masters
The Royal Black Institution is to recognise two of its former Sovereign Grand Masters with respective memorial services in the coming months, it has been confirmed.
Millar Farr, 76, died earlier this month having been ill for a period of time. The former RUC detective inspector, led the organisation for ten years from 2008, having only stepped down from the role in June.
In January, William Logan MBE, who was Mr Farr's predecessor as Sovereign Grand Master, also passed away.
The Belfast man played a leading role within the Loyal Order for almost a quarter of a century, leading the Imperial Grand Black Chapter from 1998 to 2008.
Mr Logan's memorial service will be incorporated into the next scheduled meeting of Grand Council – the Institution's ruling body – which will be hosted in Castledawson on December 1.
A separate service for Mr Farr is expected to take place early in the New Year at Molesworth Presbyterian Church in Cookstown.
Sovereign Grand Master, Rev William Anderson, said both events would serve as "fitting tributes" to the late senior sir knights.
"The Imperial Grand Black Chapter, in consultation with both families, feel it is important to recognise their sterling contribution to our Institution, and their service to it.
"Whilst undoubtedly sombre occasions, we would also wish to celebrate both Millar and William's lives, reflecting on their outstanding leadership and Christian fellowship, steering a course for the organisation, which includes the development of the Institution's now-renowned charity appeal and the imminent construction of our new headquarters."
He added: "We would anticipate sir knights and the wider loyal order fraternity will wish to pay their respects in large numbers – underlining the high esteem in which both men were held by all who knew them."
Mr Farr's funeral service was held at First Cookstown Presbyterian Church on October 8.
Imperial Grand Chaplain and close friend, Rev Nigel Reid, shared a heartfelt tribute on behalf of the Farr family.
His son, Ivan, described his father as "a man of principle" who put family first and revealed how in 1986 he'd refused promotion to the rank of chief inspector so that he could remain in Co Tyrone and visit his elderly mother on a daily basis. He went on to speak about the honour his father felt at being the leader of the Royal Black Institution.
Speaking at the service of thanksgiving for Mr Logan, held at St Anne's Cathedral, Belfast, Rev Campbell Dixon paid tribute to the highly-respected former Grand Master as a "man before his time".
"He was a compassionate individual, always seeing the bigger picture – setting a wonderful example – but I might add, not only for members of his beloved Royal Black Institution, but for the community in which he lived and worked and indeed further afield."