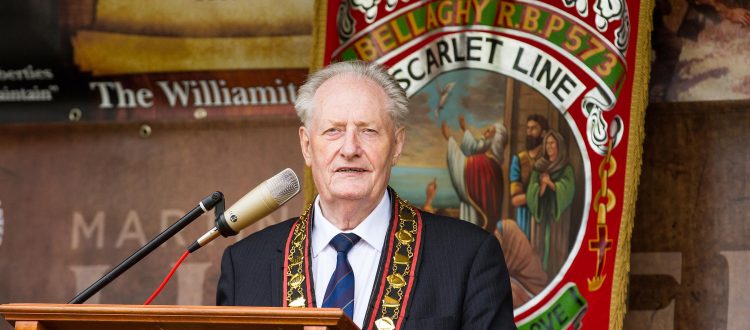 Institution pays tribute to former Sovereign Grand Master
The Royal Black Institution has expressed its deep sadness and profound regret following the death of its former Sovereign Grand Master, Millar Farr.
Mr Farr, 76, from Cookstown, passed away peacefully at the weekend. The senior Sir Knight had been ill for a short period.
Sovereign Grand Master Rev William Anderson paid tribute to the former RUC detective inspector, who led the organisation from 2008 to 2018, having only stepped down from the role in June.
Rev Anderson said: "Today, the Royal Black Institution is in mourning, having lost one of our greatest ever advocates.
"Millar was a hugely respected figure within our organisation and a role model for our members. He provided wise, progressive and stable leadership for the Institution over the course of the past decade; ensuring the organisation was true to its principles but also in the mainstream of wider community life.
"As a person, he was a true gentleman; a model of courtesy and selflessness who was hugely respected by his peers. Millar also had a unique sense of humour and a turn of phrase, charming and enthralling all those who shared his company."
Reflecting on Mr Farr's legacy, Rev Anderson praised his predecessor's part in advancing the ongoing development of the Loyal Order, most notably the development of its new headquarters in Co Armagh.
He said: "Millar's vision and leadership were instrumental in the planning of our proposed new headquarters in Loughgall. The imminent commencement of this landmark project will be a fitting tribute to his strategic foresight.
"Millar also played a key role in the Institution's ongoing charitable endeavours, ensuring such outreach is now firmly established as one of our major activities. Indeed, during his tenure of office upwards of half-a-million pounds was distributed to a variety of good causes via the Institution's biennial appeal. Such benevolence is testament to Millar and how he developed and built upon the innovations of his predecessor, the late William Logan."
Rev Anderson also highlighted Mr Farr's role in improving the Institution's communication with its membership, and wider society, through the assistance of a media consultant and the introduction of a biannual magazine, among other initiatives.
He added: "Millar was an innovator but also a realist, always acting in the best interest of the Imperial Grand Black Chapter. He will be greatly missed."
The Sovereign Grand Master offered his heartfelt sympathy to Mr Farr's wife, Margaret, and his two children, Ivan and Jane.
"The thoughts and prayers of the entire Institution are with the Farr family circle at this time."