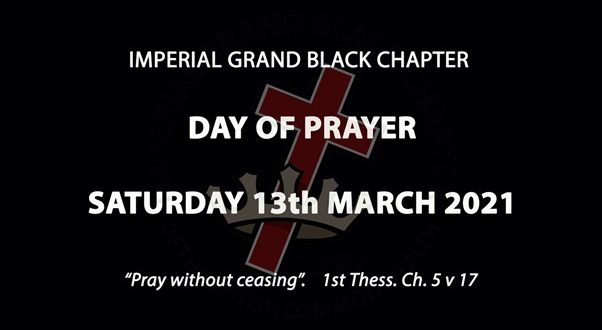 Royal Black Institution Day of Prayer 2021
The Royal Black Institution is calling its members, friends and families to a Day of Prayer to be held on Saturday 13th March 2021.
The following is the timetable for each Chapter for prayer to take place in member's homes: –
9am-10am: County Antrim
10am-11am: County Armagh
11am-12pm: Belfast County
12pm-1pm: County Cavan
1pm-2pm: County Down
2pm-3pm: England
3pm-4pm: County Fermanagh
4pm-5pm: County Londonderry
5pm-6pm: County Monaghan
6pm-7pm Scotland
7pm-8pm County Tyrone
This will mean that the Institution will be in prayer for 11 hours on Saturday 13th March 2021.
We trust that all members will take the time to pray within their own homes remembering:
Much Prayer much Blessing, no Prayer no Blessing.
To see the Sovereign Grand Master, Rev William Anderson, and Imperial Grand Chaplain, Sir Knight Raymond Adams, introduce the Day of Prayer, click on the video below.