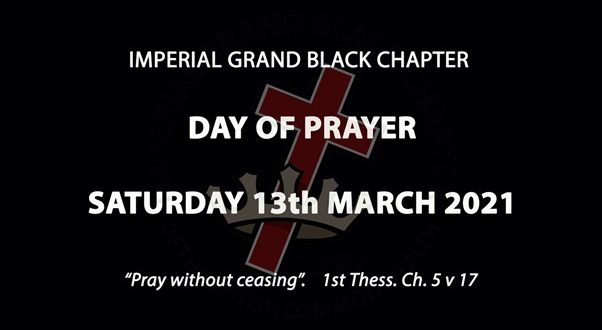 Royal Black Institution Day of Prayer 2021
The Royal Black Institution is holding a Day of Prayer on Saturday 13th March 2021.
Members, friends and families have been called to take part in this special event.
Praying in their own homes, members will:
pray for the Nation
pray for the Royal Black membership
pray for those who have suffered loss of loved ones and the sick
Imperial Grand Chaplain Raymond Adams said the Day of Prayer is an opportunity "to pray for the Nation and our Membership, calling on repentance and a turning back to God to restore our society to Righteousness and Truth".
Members are being encouraged to:
Pray that the peoples of our nation would repent and acknowledge Christ as our Saviour;
Pray that God would be merciful and send spiritual awakening and revival;
Pray for Her Majesty the Queen that she would keep the Christian Gospel at the forefront of our Nation;
Pray for the National Government at Westminster and the Northern Ireland Assembly that God would be pleased to govern the hearts and minds of politicians by His righteousness which alone exalts a nation;
Pray that our political leaders would execute their office in a manner that the Christian Faith would be purely maintained, morals would be reformed, work would be respected, crime would be punished, and laws would be just;
Pray that our nation would acknowledge and accept the rule and reign of King Jesus.
Seek guidance from the word of God by examining the following pieces of Scripture:
"Righteousness exalteth a nation: but sin is a reproach to any people." (Proverbs 14:34)
"I exhort therefore, that, first of all, supplications, prayers, intercessions, and giving of thanks, be made for all men; For kings, and for all that are in authority; that we may lead a quiet and peaceable life in all godliness and honesty." (1 Timothy 2:1-2)
"If my people, which are called by my name, shall humble themselves, and pray, and seek my face, and turn from their wicked ways; then will I hear from heaven, and will forgive their sin, and will heal their land." (2 Chronicles 7:14)
The following prayer timetable for each Chapter has been arranged:
9am-10am: County Antrim
10am-11am: County Armagh
11am-12pm: Belfast County
12pm-1pm: County Cavan
1pm-2pm: County Down
2pm-3pm: England
3pm-4pm: County Fermanagh
4pm-5pm: County Londonderry
5pm-6pm: County Monaghan
6pm-7pm: Scotland
7pm-8pm: County Tyrone
This will mean that the Institution will be in prayer for 11 hours on Saturday 13th March 2021.
The Institution trusts that all members will take the time to pray within their own homes, remembering:
Much Prayer much Blessing, no Prayer no Blessing.
To see the Sovereign Grand Master, Rev William Anderson, and Imperial Grand Chaplain, Sir Knight Raymond Adams, introduce the Day of Prayer, click on the video below.