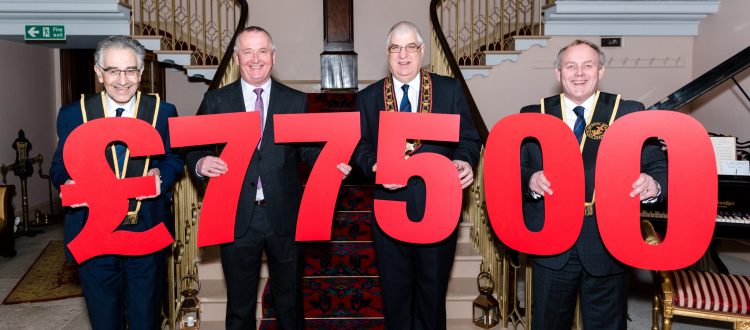 Royal Black generosity aids children's recreational centre
The Royal Black Institution has raised £77,500 for the Child Evangelism Fellowship (CEF), with the substantial funds going towards a new recreation centre for young people in Co Down.
By supporting the local Christian outreach organisation to bring the gospel to children in its latest charity appeal, the loyal order's significant contribution will aid the planned redevelopment of CEF's existing camp and conference facility in Kilkeel.
The new state-of-the-art Seaview property will cater for youth and school groups, churches and the local community, providing a modern recreational facility for thousands of children and young people.
Members of the Institution have a distinguished record for charitable outreach, raising upwards of £800,000 for various good causes on a biennial basis since 2002.
The latest amount was presented to CEF representatives at a special function hosted at Killymoon Castle, Cookstown.
Sovereign Grand Master, Rev William Anderson, praised the "magnificent" fundraising endeavours of members, declaring such generosity would leave a lasting legacy for future generations.
He said: "Our partnership with CEF serves as a further extension of both our Christian and well-established charitable outreach. We are thrilled to support such an exciting venture which will enrich the lives of children across Northern Ireland, and beyond, availing of the marvellous new proposed camp and conference facilities in Kilkeel.
"CEF do tremendous work teaching the Bible to young people in a fun and engaging way. Through the provision of a purpose-built centre, the organisation will now have the opportunity to spread God's word in new and contemporary surroundings, and proclaim the Christian message to a wider audience."
Rev Anderson added: "I would like to publicly express my gratitude and appreciation to every individual, preceptory and district who pledged money to our CEF appeal. As a Christian organisation with a track record of philanthropy, our members have once again demonstrated great compassion and kindness."
David Edwards, National Director of CEF in Ireland, said: "We are extremely thankful for the support of the Royal Black Institution and for their very generous gift of £77,500 which will go in its entirety towards the construction of a new, modern facility which will be fit for purpose for many years to come.
"The plans have been submitted and we are awaiting a decision from Newry, Mourne and Down District Council, which we trust will be positive. We can then proceed with demolishing the old building and erecting the new to the Glory of God.
"Thank you to every member of the Royal Black Institution who supported this venture. We are grateful, and the children of the generations to come will benefit from your generosity."
The breakdown of money raised by the Royal Black Institution, over the past 17 years, is as follows:
2002 – Chest Heart and Stroke N.I. £66,000
2004 – Action MS £80,000
2006 – Open Door Ministry in Sudan £90,000
2008 – Diabetes UK £77,000
2010 – Kiwoko Hospital in Uganda £105,000
2012 – Alzheimer's Society £95,000
2014 – Bible Society & Mission Aviation Fellowship £85,000
2016 – Macmillan Cancer Support £105,000
2018 – Child Evangelism Fellowship £77,500