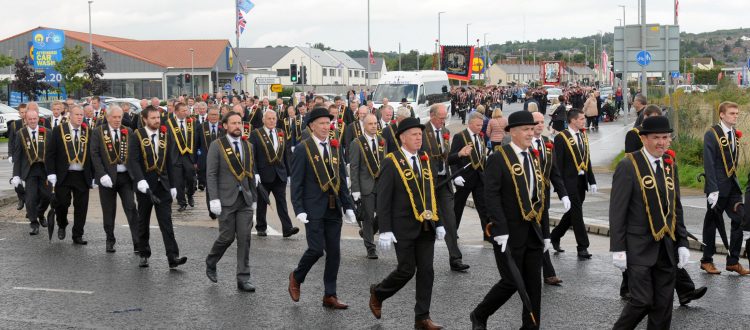 Kilkeel preceptory making presence felt after 150 years
With 268 members on its roll book, Elijah's Chosen Few RBP 208 is certainly one of a kind.
Indeed, sir knights from the Mournes can claim to be part of the largest preceptory in the world.
This year is also a landmark occasion for members as the Kilkeel-based lodge celebrates its 150thanniversary.
Preceptory registrar, Robert Newell, has one of the most difficult jobs in the Institution, accounting for the sizeable membership base.
"If you take the roll book alone which has to be filled out for organisation and do that 268 times, it certainly mounts up," he jokes.
The self-employed joiner, 63, maintains the preceptory's high numbers emanate from the local close-knit loyal order fraternity in south Down.
He said: "We generally take our numbers from eight local Orange lodges. Our membership has and continues to incorporate three generations from one family. Our biggest ever intake was 19 new members on the one night, which is unheard of."
Mr Newell said the highest-ever number of sir knights recorded was 276.
"We have the potential of eight new members coming in, but unfortunately death is a problem. We have lost over 30 members in the past decade.
"We have a big contingent of fishermen in the lodge and our parades can sometimes fall on a day when the boats aren't home – so this can leave quite a gap on occasions."
He continued: "There is quite a pride taken in our size. If you go back to the 1920s, the preceptory was quite small and just steadily built from there. There was a big influx of young members over a period of years."
The registrar also confirmed the preceptory's global footprint, with a number of sir knights currently resident in Canada, Australia and other areas of the UK.
The preceptory's most famous member is undoubtedly First World War hero and Victoria Cross recipient, Robert Hill-Hanna. The Kilkeel native was a soldier with the Canadian Expeditionary Force.
It was also not exempt from republican terrorism during the Troubles, with member and UDR soldier, Alan Johnston, murdered by the IRA in 1988.
To mark its 150thanniversary, a church service will be held in Kilkeel on June 30. There are also plans to launch a special tie for members.
The preceptory will be represented later this year at the annual Sham fight on July 13 and the traditional Last Saturday demonstration, to be hosted in Ballygowan.
Mr Newell is expecting a large turnout of members stepping out at the latter.
"At a previous demonstration in Kilkeel we had over 200 on parade – it just seemed to go on forever that day!
Given the turnout on such occasions, sir knights would walk three abreast rather than the normal two.
He added: "Without big headed there would actually be people attend to see how big we are. I've been stopped in the past and asked the question, 'how many have you got out today?"