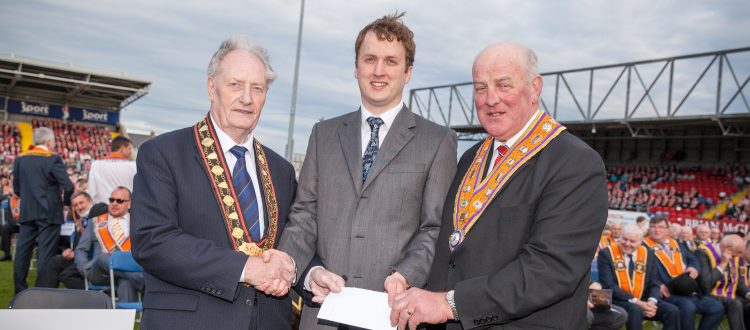 Reformation rally aids Bible outreach in Asia
The word of God will be made more accessible to the people of Indonesia courtesy of a major Loyal Order rally last weekend.
Wycliffe Bible Translators received £12,500 from the proceeds of a collection at Shamrock Park, Portadown, which hosted a religious service to mark the 500th anniversary of the Protestant Reformation.
The charity's vision is to give people from around the world, including south-east Asia, access to the Bible in a language which they understand. According to Wycliffe, at least one-and-a-half billion people do not have the full Bible available in their first language. Over 160 million people still don't have any Scripture in their mother tongue.
Saturday's religious commemoration – the flagship event of the Loyal Orders' Luther 500 project – was jointly organised by the Orange and Royal Black Institutions.
Upwards of 10,000 people participated in a major parade through the Co Armagh town, preceding the act of worship.
Millar Farr, Sovereign Grand Master of the Royal Black Institution, said: "Wycliffe, through their translators, do invaluable work in ensuring scripture is accessible to the widest possible global audience. Through their pioneering work, people are discovering the Bible in a language they now understand.
"The word of God is a story everybody needs to read and hear, and we are delighted to play our part in a significant way to this fantastic project."
Grand Master of the Grand Orange Lodge of Ireland, Edward Stevenson, said: "As organisations with a strong Christian ethos at their core, it is particularly fitting the offering from our Luther rally should be supportive of a charity which does so much to promote the word of God on a worldwide basis.
"At a time of growing secularism, the evangelical outreach of Wycliffe is perhaps even more essential and deserving of such good will. We are proud to support such a worthy cause."
Ricky Ferguson of the Wycliffe Bible Translators in Northern Ireland expressed appreciation for the "generous" charitable gesture.
He said: "This gift will be used to support Bible translation among the Aru people of Indonesia. There are 90,000 Aru people speaking 15 different languages across the Aru Islands.
"This generous gift of £12,500 will be of great benefit to this project as they seek to engage with God's word in the language they understand best. The project teams would greatly value your prayers as they seek to make this possible with God's help."
For more information about the work of Wycliffe Bible Translators, visit their dedicated website wycliffe.org.uk or call 028 9073 5854.