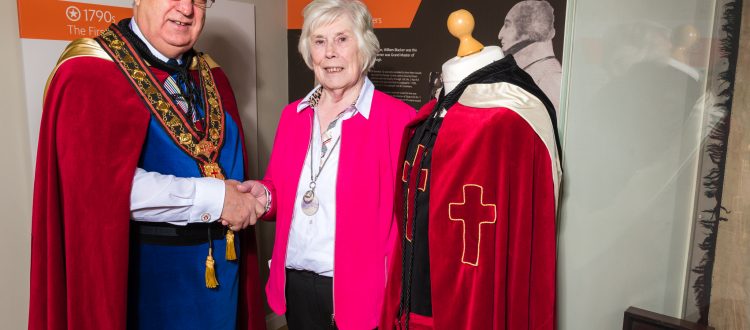 New robes presented to Sovereign Grand Master
A new set of ceremonial robes have been presented to the leader of the Royal Black Institution.
Sovereign Grand Master, Rev William Anderson, took receipt of the new garments at a special gathering held at the Sloan's House Museum of Orange Heritage in Loughgall earlier this month.
The robes have special significance: they were purchased by the private preceptory of a former head of the Loyal Order, the late Millar Farr, and are dedicated to his memory.
"I am delighted to receive these robes," said Rev Anderson.
"They're a wonderful gift in memory of the late Millar Farr, who served this Institution as Sovereign Grand Master for 10 years and gave it a great boost during his chairmanship.
"I will be forever grateful to Greeves Memorial RBP 641 for this kind gesture and can assure them the robes will be worn with great pride and dignity for many years to come."
With the old robes coming to the end of their natural life, Rev Anderson sought out Frank Arnold, from RBP 641, for help in tracking down a suitable manufacturer of ceremonial dresswear.
Mr Arnold then suggested to his fellow Sir Knights in RBP 641 – based in the townland of Boland, near Dungannon – that the preceptory buy and then gift the new robes to the Royal Black as a tribute to their own illustrious former member.
To a man, everyone in RBP 641 agreed to the proposal.
"They are beautiful robes and a wonderful memorial to Millar Farr," said Mr Arnold.
"We followed the previous design exactly. I borrowed the old robes, and had them made as an exact replica, the only small difference is the front vestment was made a slightly different length, but otherwise it is exactly the same design."
At the meeting in Loughgall, the robes were dedicated by Grand Chaplain, Rev William Murphy.
Greeves Memorial decided they would like to come out of Boland for the occasion, and the meeting and supper afterwards was a great success. They were joined by fellow Sir Knights from their own locality, as well as a host of senior dignitaries of the Institution.
Also in attendance were members of Mr Farr's family, including his widow, Margaret.
"I am very thankful to Greeves Memorial for inviting me along here tonight," said Mrs Farr.
"It's a pleasure to be here and have my family with me. The new robes look very nice indeed. My husband would be very proud."
Rev Anderson said he was delighted the Farr family was able to attend.
"It's important we show that although the life of the Institution continues, we still remember Millar – and I know his family really appreciate that."
The old robes will be displayed on mannequins in the Royal Black's proposed new headquarters in Loughgall.
The new 'Millar Farr robes' will now go into service with the Sovereign Grand Master, who intends to take them far and wide on official business.
"We still wear ceremonial robes in the Royal Black Institution. It brings a great deal of dignity to a Grand Council meeting. And it is my intention, travelling around the world, to bring them with me, along with the Molyneaux Mace, so that all of the true ceremony can be seen in the various jurisdictions by Sir Knights who would otherwise have no opportunity to see them."
An early occasion for the robes to be seen in person by a wider audience will be the upcoming meeting of the Royal Black's Grand Council, which Rev Anderson revealed will be an important meeting for the future of the Loyal Order.
"I will be delivering my vision for this Institution at our December meeting of Grand Council in Cookstown on December 7," said Rev Anderson.
"I'll be laying out a 3-5 year plan that involves growth, raising the standard, and the training and upskilling of our members for what is needed for a 21st century Institution."