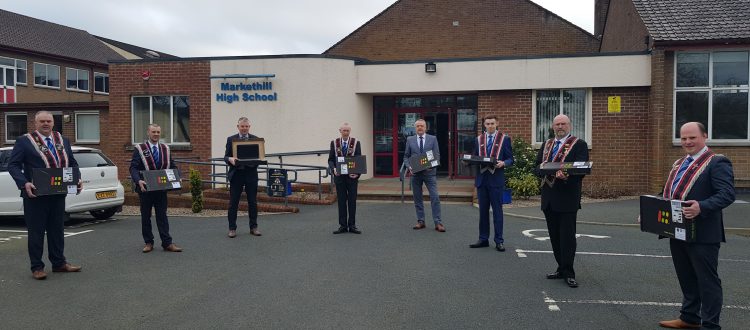 Grip Fast the Light RBP 54 presents laptops to Markethill High School
The negative impact Covid-19 has had on the education of young people has been well documented in recent weeks.
Members of 'Grip Fast the Light' RBP 54, based in Markethill, were therefore delighted to present Markethill High School with nine laptops to be used by its students.
With a large percentage of the Preceptory's members being former pupils of the school, RBP 54 was glad to be able to support the school in a practical manner during these difficult times.
The initiative, which was financially supported by Armagh City, Banbridge & Craigavon Borough Council, is the latest in a number of projects the Preceptory has undertaken during the Covid pandemic to support both its members and the wider community.
RBP 54, which marks its 175th anniversary next year, has a long history of benevolent activities in the Markethill area and looks forward to resuming these activities in earnest when normal Preceptory meetings return.
In recent years, the Preceptory has adopted a strategic plan aimed at supporting and developing the lives of young people in the Markethill area.
Believing that a vibrant community can only be sustained by investing in its young people, RBP 54 has donated on average £1,500 per year over the last five years to a number of youth-orientated groups, ranging from Sunday Schools and the Junior Orange, to the Northern Ireland Children's Hospice.