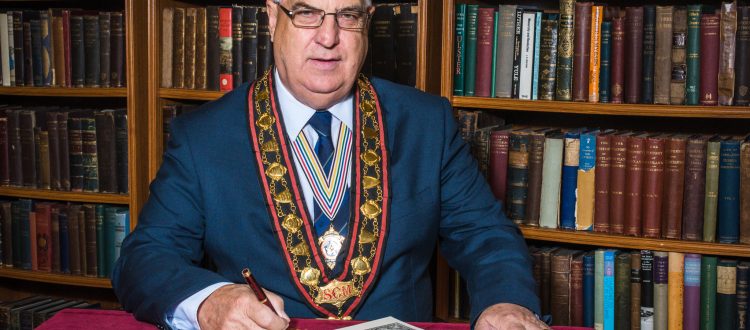 A message from the Sovereign Grand Master, Rev William Anderson
I would like to take this opportunity to wish everyone a happy and glorious Twelfth.
Of course, this year's Twelfth will be very different to our usual celebrations. In response to the terrible coronavirus pandemic, the Orange Institution – along with the other Loyal Orders, including the Royal Black Institution – made huge sacrifices by cancelling their traditional parades for the summer. In doing so, the Loyal Orders demonstrated great compassion and concern for the health and wellbeing of all our citizens.
The Grand Orange Lodge of Ireland's "12th At Home" initiative has been a fantastic success, and I would encourage everyone to tune into GOLI's pop-up radio station, Radio Boyne, throughout the day.
Although we cannot have our traditional parades and religious services, please take time today to pause and reflect on the tremendous victory for civil and religious freedom won by King William III Prince of Orange at the Battle of the Boyne in 1690.
And take time to look inside your hearts and consider Christ's victory over death on the cross, allowing us the opportunity to be cleansed in His precious blood so that we might worship Him forever more in the Eternity of Heaven.
However you plan to mark the Twelfth – online, in your home, or at your door – please do so within the coronavirus restrictions, and have a wonderful day.
Tomorrow, many Sir Knights of the Royal Black Institution will also find it strange not to be on parade in Scarva or Bangor. With both these demonstrations cancelled, I would encourage you to click on this link https://youtu.be/KOZg8TEjjNE where, from 11.15am tomorrow, you will find a special, hour-long film on the Scarva Sham Fight.
The Sham Fight organisers, Sir Knight Alfred Buller Memorial RBP 1000, have produced a beautiful film to help you mark the "Thirteenth" in your own home – be sure to give it a watch, you won't be disappointed!
Rev William Anderson
Sovereign Grand Master