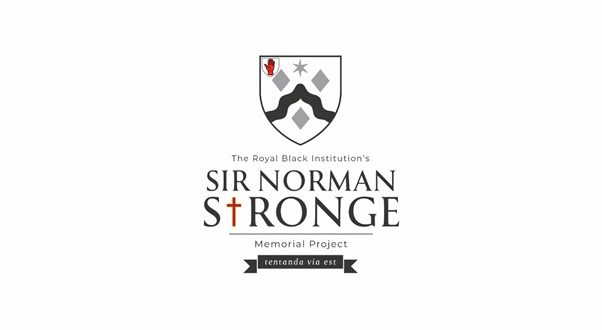 WATCH: Act of Remembrance for Sir Norman Stronge
Sir Norman Stronge, who was murdered 40 years ago by republican terrorists, has been remembered by the Royal Black Institution as a "man of the people" who was well known for his benevolence and compassion.
A former Sovereign Grand Master of the Institution, Sir Norman Stronge was shot dead in his home, Tynan Abbey in Co Armagh, on the evening of January 21, 1981.
Killed alongside him was Sir Norman Stronge's only son, James, also a member of the Institution.
The pair were killed by an IRA gang who then firebombed the property, and the resulting blaze left the historic building in ruins.
To mark the 40th anniversary of the horrific double murder, the Royal Black Institution has produced an online Act of Remembrance in which Sir Norman Stronge is hailed for his "outstanding" dedication to his country.
The video forms part of the Institution's "Sir Norman Stronge Memorial Project". This initiative will involve a series of events throughout the year which will commemorate the life of Sir Norman Stronge and also mark the centenary of Northern Ireland.
The theme of the project is "Service and Sacrifice".
Sir Norman Stronge was a member of RBP 264 Breaghey and was Sovereign Grand Master of the Royal Black Institution from 1948 to 1971. He fought at the Battle of the Somme in 1916 and was awarded the Military Cross. He later became a senior Ulster Unionist Party politician, serving as Speaker of the House of Commons of Northern Ireland for 23 years.
He was aged 86 at the time of his death.
In the online Act of Remembrance, Imperial Grand Treasurer David Livingstone, speaking in his capacity as County Grand Master of Armagh, tells how Sir Norman Stronge moved in circles of high office, but that he "cherished" his life as a beef farmer on his Tynan estate, and how he would often help neighbouring farmers who were in need of assistance.
"Sir Norman Stronge was a Sir Knight of outstanding intellect and integrity, displaying a deep love for his fellow man. He was, and remains, a shining example of what we, as members of this Institution, should aspire to," says Sir Knight Livingstone.
The online tribute also sees Imperial Grand Registrar William Scott – speaking from Tynan Parish Church where Sir Norman Stronge worshipped every Sunday – recall the former Sovereign Grand Master as a "friendly, supportive and encouraging" figure to all that met him.
Sir Knight Calvin Reid provides a history of Sir Norman Stronge's life and service to the nation, while Imperial Grand Chaplain, Canon Will Murphy, leads in prayer and reads from the Scriptures at Sir Norman Stronge's graveside, and the current Sovereign Grand Master, Rev William Anderson, lays a poppy wreath in the shape of a cross.
Rev Anderson also reveals plans by the "Sir Norman Stronge Memorial Project" to unveil a bust of Sir Norman Stronge at the Institution's new headquarters in Loughgall later in the year.
There are also plans for an exhibition and booklet on the life of Sir Norman Stronge, and a Book of Remembrance is to be compiled for all Sir Knights who paid the supreme sacrifice during the Troubles.
The Institution will release a centennial medal to mark 100 years since the foundation of Northern Ireland, while an Ulster Way charity walk will raise funds for the Somme Nursing Home in Belfast, which is the Institution's Designated Charity Appeal.
Rev Anderson said: "I believe these events, subject to coronavirus restrictions, of course, will be a fitting way to remember Sir Norman Stronge's faithful service to our Institution, and to mark the centenary of Northern Ireland." 
To watch the Act of Remembrance, click on the Youtube link: