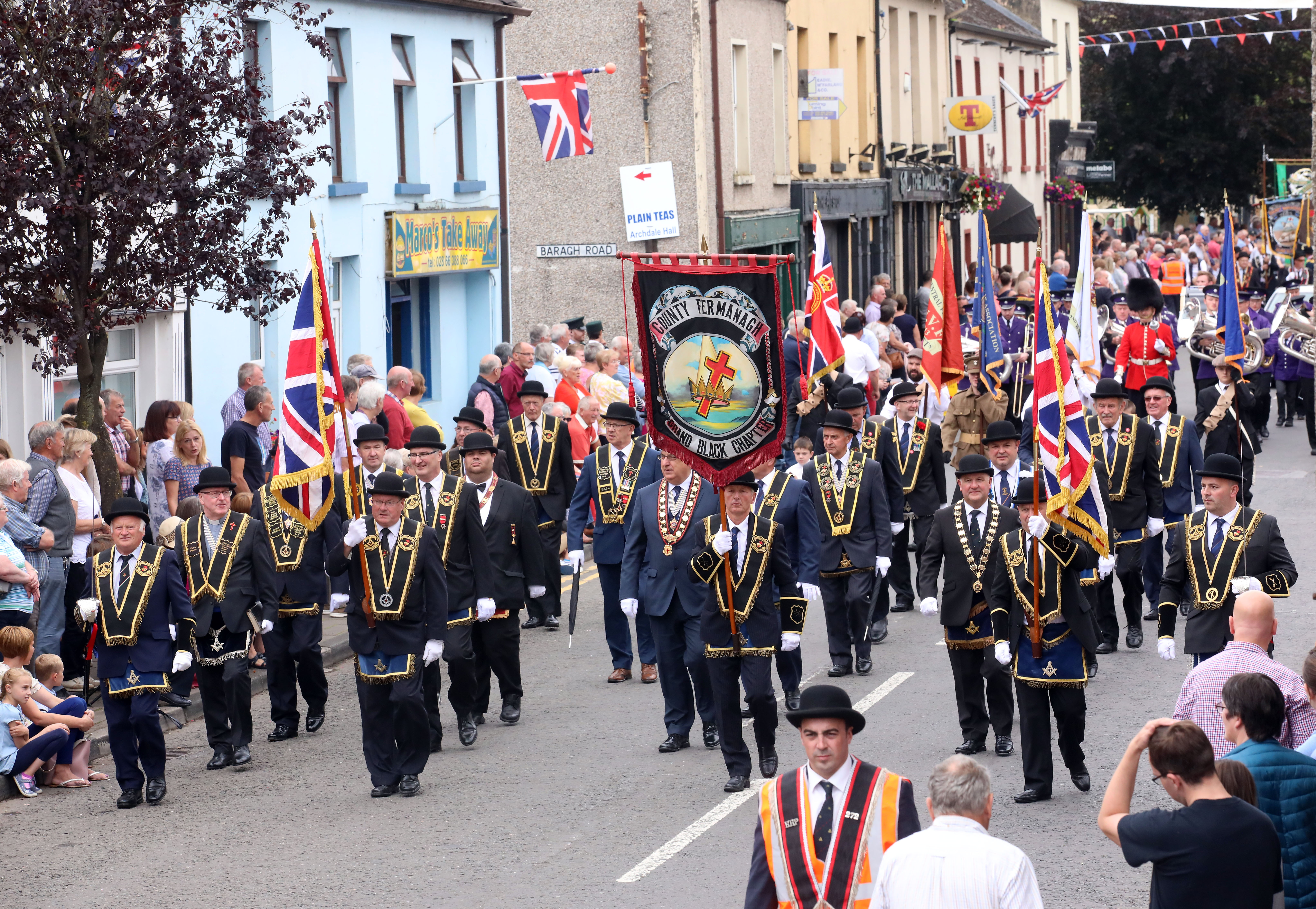 Sir Knights set for Fermanagh parade
The annual County Fermanagh demonstration hosted by the Royal Black Institution will take place in Brookeborough early next month.
Approximately 30 preceptories, accompanied by as many bands, will step out on Saturday, August 3 to commemorate the 1689 Battle of Newtownbutler.
Sir Knights from three local districts will be joined by visiting members from the neighbouring border counties of Cavan and Monaghan, as well as Sir Knights from other Counties. This year's parade will be hosted by Brookeborough Victoria RBP 487.
Among those taking part will be the Institution's Sovereign Grand Master Rev William Anderson; County Fermanagh Grand Master Tom Elliott; and other senior members of the Loyal Order.
Parade participants will assemble at a field on the Lisnaskea Road prior to the main procession, which commences at 12.30pm. The parade will make its way through the village to the demonstration field at Coolcoghill for a religious service, which gets under way at 2pm. Praise will be led by Kilskeery Silver Band.
The guest speaker will be Sir Knight Canon Alan Irwin. The resolutions will be read by Assistant Sovereign Grand Master William Baillie. The principal speaker on the resolutions will be Sovereign Grand Master Rev William Anderson.
A charity collection on the day will be in aid of Parkinson's UK and Parkinson's Support Fermanagh.
The last time Brookeborough hosted the Fermanagh parade was 2011.
Looking ahead to this year's event, County Grand Master Tom Elliott said: "Brookeborough will provide a lovely setting for our Fermanagh parade.
"The organisers have done a magnificent job to get everything ready.
"It will be a great day out for all the family – a wonderful spectacle with some top grade music on display."
Sovereign Grand Master Rev William Anderson said: "I'm really looking forward to the Fermanagh parade and religious service in Brookeborough.
"The Sir Knights in the beautiful lakeland county of Fermanagh always deliver a nice and relaxed, family-focused event.
"I look forward to renewing acquaintances and making new friends upon my visit to Fermanagh next month."
The Fermanagh parade takes place ahead of the traditional Royal Black Last Saturday demonstrations, hosted at six different venues – Ballymoney, Dungannon, Holywood, Ballygowan, Garvagh and Seskinore – on August 31.