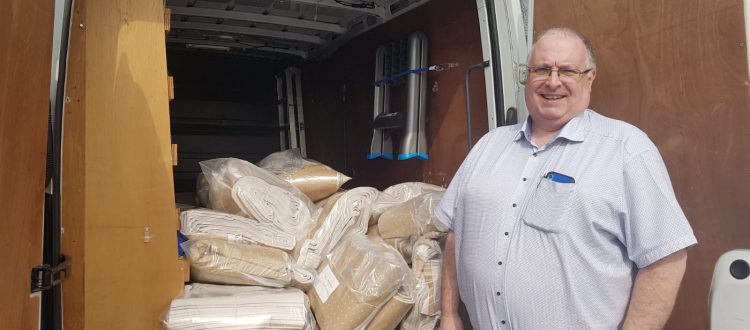 Sir Knights praised for 'creative and inventive' response to coronavirus crisis
Members of the Royal Black Institution have been hailed for displaying tremendous civic leadership throughout the coronavirus crisis.
Sovereign Grand Master, Rev William Anderson, revealed he has been overwhelmed by the fundraising and the work being carried out by Sir Knights as they help their communities battle against deprivation, isolation and shortages during this unprecedented period of lockdown.
When the scale of the emergency first became apparent, Rev Anderson appealed to members to get involved in efforts to bring comfort and support to the suffering and vulnerable.
And he is delighted – and humbled – by the response of Sir Knights so far.
"From Glasgow to London, from Belfast to Raphoe, and from Portrush to Warrenpoint, our members have been creative and inventive in responding to the challenges of this time in order to give leadership to our communities," said Rev Anderson.
"I am hearing of PPE equipment being purchased and delivered to hospitals, care homes, doctors' surgeries and domiciliary workers. Food has also been donated to NHS staff in hospitals and care homes, along with food parcels and medication for the elderly and those who are self-isolating.
"Thousands of pounds have been raised up and down the land and many have benefited from the caring and dedicated members of the Royal Black Institution, their wives, families and friends.
"'Thank-you' seems such a small word to say in response to such a magnificent effort. Well done to everyone and I know that you will be blessed by your labours."
One of those heavily involved in local relief efforts is Assistant Sovereign Grand Master, Harold McCloy, who has been spearheading a massive "stitch and sew" initiative which has resulted in over 4,000 pairs of scrubs being produced for hospitals and care homes in the fight against COVID-19.
Sir Knight McCloy raised an army of home-based volunteers to assemble the garments for healthcare workers as they nurse Northern Ireland through the coronavirus pandemic.
Sir Knight McCloy has delivered the much-needed uniforms to a number of medical settings, including the Causeway and Antrim hospitals, plus numerous care homes throughout Co Antrim.
One of his most recent drop-offs was a consignment of 100 scrubs to The Somme Nursing Home in Belfast – the Royal Black Institution's designated charity for 2020.
"The reaction when we deliver the scrubs is unbelievable," said Sir Knight McCloy.
"The care homes are over the moon and I have received dozens of emails and phone calls from people saying 'thank-you'."
The Ballymena businessman and his wife, Alison, were inspired to answer the call to action after their company, Village Blinds, was forced to close temporarily due to the coronavirus crisis.
"We wanted to do something to help in providing a product or service for our incredible NHS staff and care workers," said Sir Knight McCloy.
"With the urgent need for scrubs so highly documented, we knew this was something practical that we could help with."
The McCloys were delighted to source 10,000 metres of cloth from William Clark and Sons, in Upperlands, Maghera.
Thanks to the generosity of hundreds of people, within days a fundraising campaign had generated the five-figure sum required to buy the material.
Work was able to start on cutting the fabric, with Bradfor from Rostrevor kindly offering their services free of charge.
The pieces were then distributed to an "an exceptional band of stitchers", made up of over 60 volunteers spread right across Mid and East Antrim – including Ballymena, Broughshane, Cullybackey, Ahoghill and Larne.
Among those to get involved were Bannside Stitchers, Cloughmills Crochet Club and Tullygarley Sewing Group.
Many of the volunteers were women aged over 70 who were professional stitchers during their working lives, and Sir Knight McCloy praised the quality of their work as "absolute perfection".
"These women deserve all the credit," he said.
"Without them, the whole thing wouldn't have been possible. We simply couldn't have done it. They are the real heroes of the operation.
"I also want to thank the people who helped me make all the drop-offs and deliveries – there have been a lot of miles covered!
"And the support we have received financially has been fantastic. When I ordered the fabric, fundraising was not in my thoughts, but when the officers of County Antrim Royal Black Chapter heard what I was doing, within 24 hours there was £2,500 in the pot.
"Lots of people have made donations, and all the Loyal Orders have financially supported the project, from county level down to individuals."
Sovereign Grand Master, Rev William Anderson, congratulated Sir Knight McCloy and everyone involved in the scrubs project.
"Like many members of our Institution, Sir Knight McCloy has risen to the challenge of helping his fellow citizens in these difficult times, and I commend all those stitchers, drop-off drivers and fundraisers whose work has been so vital to this superb initiative," said Rev Anderson.
Sir Knight McCloy has no intention of easing up on his charitable endeavours. With excess money raised from the scrubs project, his team has bulk purchased hand sanitiser, which has already been bottled up and distributed to care homes.
He has also sourced the necessary materials to assemble face visors for healthcare workers. Production is already under way, and the visors will be available in return for a small donation which will be re-invested into buying more stock.
For information on making donations, or to get in touch regarding the face visors, email Sir Knight McCloy on harold22@hotmail.co.uk.