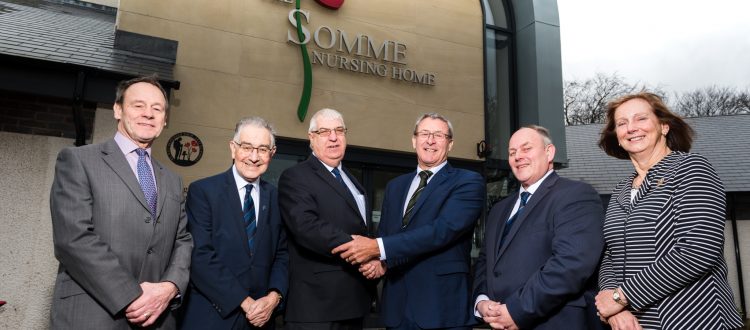 Royal Black Institution to raise money for Somme Nursing Home
The Royal Black Institution is set to raise funds to help a Belfast care facility increase its capacity to provide respite care for service veterans.
Over the course of the year, members of the Loyal Order will embark on various fundraising initiatives for The Somme Nursing Home, which caters for ex-service personnel as well as those who have served with the police, prison, fire, ambulance service and mercantile marine.
Money donated by the Royal Black Institution will be used to increase the capacity of the home, enabling it to offer new respite care accommodation, for which there is a growing demand from ex-RIR, UDR and RUC personnel.
The Royal Black Institution has raised upwards of £800,000 for various designated charities on a biennial basis since 2002.
In 2018, the Institution raised £77,500 for Child Evangelism Fellowship (CEF) to help the Christian outreach organisation build a new recreation centre for young people in Kilkeel.
This year, the Sovereign Grand Master is hoping Sir Knights will be able to raise £100,000 for The Somme Nursing Home.
"I am delighted to announce that our Institution-wide Designated Charity for 2020 is The Somme Nursing Home," said Rev William Anderson.
"The home is a magnificent facility which provides excellent care to our courageous veterans.
"To meet the growing demand for its services, the home has developed plans to build a short-term residential care facility within its premises – the only thing holding them back is finance.
"One of the core objectives of the Royal Black Institution is to engage in Christian and charitable outreach. We have donated hundreds of thousands of pounds to charities, large and small, over the years.
"I have no doubt that Sir Knights will once again rise to the challenge of our latest appeal, and in doing so, help those brave men and women who gave so much throughout their lives to ensure our safety at home and abroad."
The Somme Nursing Home, situated on the Circular Road, off the Holywood Road, in Belfast, can trace its history back to 1914 when Craigavon House, still on the site of the modern nursing home, was gifted by its owner, Lord Craigavon, to be a facility for the care and treatment of soldiers fighting in what would become the First World War.
The current home provides high quality care to residents, tailored to individual needs, and embraces the core values of dignity, choice, independence and privacy.
Ernie Telford, chairman of the board of directors at The Somme Nursing Home, said: "The board and staff of the home wish to acknowledge and thank the Royal Black Institution for such a generous action in nominating the home as its Designated Charity for 2020.
"The fundraising will enable us to increase the capacity of the home from 50 to 53 residents. At the present time, there is an increasing need for respite care accommodation and the financial support being provided will enable the home to improve this type of service for veterans of all ages."