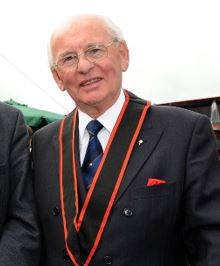 Royal Black Institution pays tribute to former Grand Master
The Royal Black Institution has expressed its deep sadness and profound regret following the death of its former Sovereign Grand Master, William Logan.
Mr Logan, 86, passed away peacefully during the early hours of Thursday morning. The senior Sir Knight had been ill for a short period.
Sovereign Grand Master Millar Farr led tributes to the respected Belfast native, who played a leading role within the Loyal Order for almost a quarter of a century, leading the organisation from 1998 to 2008.
Mr Farr said: "Today, the Royal Black Institution has not only lost one of its true stalwarts, but one of its greatest ambassadors.
"Billy, as he was known, was a gentleman and a loyal Sir Knight. He was a typical shipyard man, forthright in his views but always approachable, respectful and amicable towards others. He was a compassionate individual, always seeing the bigger picture, and setting a wonderful example for all of the members.
"This was most apparent through Billy's instrumental role in developing the Institution's now-renowned charity appeal, which has raised in excess of over £700,000 for various good causes on a biennial basis since its inception. Raising the standard for such outstanding benevolence will be his enduring legacy."
Mr Farr praised his predecessor's part in raising the profile of the Loyal Order during his decade of service as Grand Master, most notably through the media. He also commended his leadership following a serious fire which extensively damaged the Institution's headquarters, at Brownlow House, Lurgan, in 1996.
Mr Farr hailed the former RUC reservist for his role during the Troubles.
He said: "Billy worked very hard to keep the peace in the Shankill area of Belfast during a tumultuous period of sectarian violence in our capital city. This was typical of the man. His Christian ethos and selflessness were central to his role as peacemaker."
Mr Farr said Mr Logan's passing marked a sad day for the Loyal Order fraternity and the wider unionist community.
"Billy was the personification of a typical Ulsterman – honest, devoted, hardworking and considerate. His wisdom and his wit will be greatly missed."
He added: "The thoughts and prayers of the entire Institution are with the Logan family circle at this time."