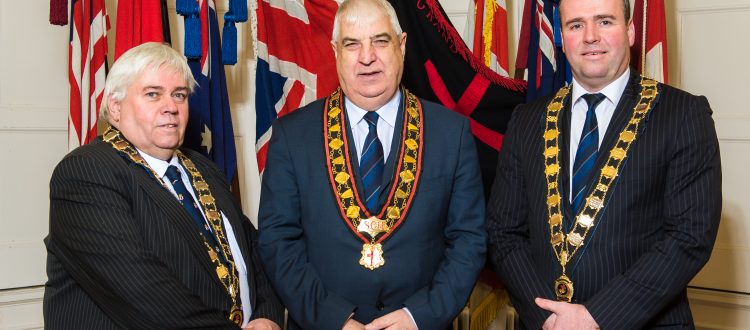 New assistants with a grand plan for loyal order
A farmer and a chartered accountant have been nominated to senior positions within the Imperial Grand Black Chapter.
Richard Emerson and Colin Berry both recently assumed the roles of assistant sovereign grand masters, having been personally appointed by the loyal order's leader, Rev William Anderson.
The sovereign grand master is traditionally supported by three assistants, each serving a three-year term in office. Mr Emerson and Mr Berry replace outgoing assistant grand masters, John Morrow and Rev Philip Rimmer respectively.
Mr Berry, a Belfast native now living in Banbridge, said he was looking forward to carrying out the role to the best of his ability.
The father-of-three said: "I think it's a very exciting opportunity especially with all of the work that is going to come in the future [regarding the new headquarters]. I am greatly privileged as one of the few from Sandy Row, and also my own preceptory, County Monaghan Royal Black Knights RBP 330, to take up the role."
The accountant, 62, has family links to the border county and lists genealogy among his hobbies. Colin also enjoys travelling, having formerly lived in Johannesburg, South Africa.
For now, he is focussed on his new position as part of the loyal order's leadership team.
"I aim to live up to the standards of the Institution. I look at the role as a stewardship post, and whenever I finish I would hope to give it back in a better position than when we took it forward."
He added: "I'm willing to learn on the job and I think it will be a good personal challenge."
Mr Emerson, who specialises in breeding pedigree Ayrshire cattle on his Co Tyrone farm, is also looking ahead with anticipation.
The 46-year-old hopes through his elevation to be a "role model" for others within the Institution.
He said: "I was surprised by the offer as I would maybe be a bit younger than the men who would usually be nominated. Nonetheless, I feel I am ready for the challenge and the various matters which will come up during my term in office."
The keen rugby enthusiast also set goals for younger members.
"I would like to see the membership increase, and trying to encourage younger people, who see myself and others in such roles; that they can progress through the Institution. If they take up office, opportunities will come."
Mr Emerson, who currently serves as Co Tyrone grand master, hailed the Christian ethos and charitable outreach of the organisation.
Offering his congratulations, Rev Anderson said he looked forward to working with both men for the betterment of the Imperial Grand Black Chapter.
He said: "I would wish both Colin and Richard every success during their term in office. I know they both bring individual qualities and attributes, in addition to third assistant William Baillie, which will be to the collective benefit and advancement of our beloved Institution."
Rev Anderson also added his thanks to outgoing holders of the office, Mr Morrow and Rev Rimmer, for all their support and hard work for the loyal order.