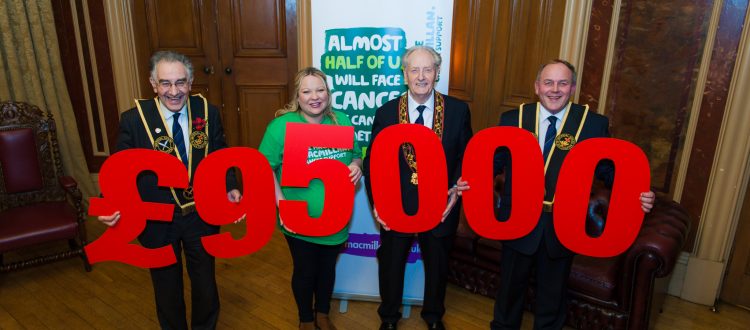 Institution praised for 'incredible' cancer charity support
The Royal Black Institution has raised £95,000 for a leading cancer charity.
The Loyal Order chose Macmillan Cancer Support as its designated charity last year, with the substantive funds going towards a local aftercare scheme for prostate cancer patients in Northern Ireland.
Members of the Institution have a distinguished record for charitable outreach, raising nearly £700,000 for various good causes on a biennial basis since 2002.
The latest amount was presented to Macmillan representatives at a function held in the Royal Black headquarters in Brownlow House, Lurgan.
Sovereign Grand Master, Millar Farr, praised the "magnificent" fundraising endeavours of members, stating such generosity would greatly help other males across society in their time of need.
He said: "Cancer is an insidious disease which unfortunately knows no boundaries. Macmillan does invaluable work in our community, offering specialised assistance and support to patients, and their families, often at the most difficult and challenging of times. We are delighted to provide much needed financial support for their dedicated services, and trust it will be of particular benefit to those individuals diagnosed and receiving treatment for prostate cancer.
"As a Christian organisation with a track record of raising money for charity, our members and supporters have once again demonstrated great compassion and kindness. Such selflessness is even more notable and worthy of praise during a time of economic austerity."
Mr Farr added: "I would like to publicly express my gratitude and appreciation to every individual, preceptory and district who pledged money to our Macmillan appeal. By so doing they have contributed to a worthy and vital cause. Their generosity will greatly assist Macmillan in helping those in our community affected by cancer."
Stefani Mearns, fundraising manager at Macmillan Cancer Support, said: "We would like to thank the members of the Royal Black Institution for their incredible fundraising activities on behalf of Macmillan. £95,000 will make a vital difference to our work, enabling us to build the sustainability and extend the legacy of our prostate cancer services, and provide invaluable support for men living with prostate cancer across Northern Ireland."