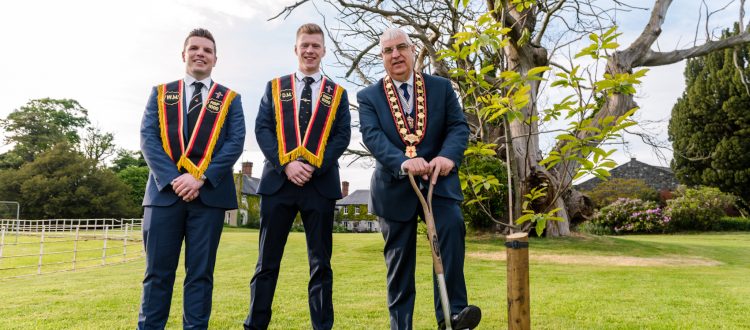 Blooming marvellous! Trees mark Scarva milestone year
Organisers of the annual Sham Fight have planted two symbolic trees at Scarva Demesne ahead of next month's flagship event.
Both of the Spanish Chestnut trees have special significance, with one marking this year's centenary of Sir Knight Alfred Buller Memorial RBP 1000, and the other standing as a lasting tribute to past members.
Sir Knights of the Scarva preceptory make up the organising committee responsible for one of the most colourful and largest events in Northern Ireland's cultural calendar. Upwards of 100,000 people are expected to descend once again on the Co Down village for the annual mock clash between King William and King James.
The new trees are located in close vicinity to a similar chestnut tree where King William tied his horse on the way to the Battle of the Boyne over three centuries ago, and where his troops rested.
Among those in attendance at the planting ceremony was the Sovereign Grand Master of the Royal Black Institution, Rev William Anderson.
He said: "The Imperial Grand Black Chapter was delighted to assist the members of RBP 1000 in this tremendous and lasting tribute to mark their centenary year.
"I hope and pray the trees will grow and flourish in the beautiful Scarva Demesne, offering an impressive backdrop to the wonderful Sham Fight for generations to come. I commend sir knights on this terrific initiative."
The planting of the tree to mark 100 years was completed by the oldest members of the Scarva preceptory, Eric Minnis and John Whiteside.
Worshipful master of RBP 1000, Craig Adair, said the event had a special resonance for sir knights.
"This is a momentous year for our preceptory and the tree planting has a very special meaning for our membership. "Not only will we have a permanent growing reminder of our landmark anniversary and natural link to King William's legacy at the site; the preceptory will also have a long-lasting memorial to all of our past members.
"Indeed, it is our intention to lay something at this tree every year at Scarva in tribute to all those sir knights who went before us."
According to preceptory records, the warrant for RBP 1000 was issued on November 8, 1919. Formerly known as the Henry Thompson Memorial, the preceptory was listed as the Sir Knight Alfred Buller Memorial in 1951. The current membership is 46.
RBP 1000 will be among upwards of 90 preceptories, and as many bands, taking part in the Scarva demonstration on Saturday July 13, which will precede the traditional Sham Fight.