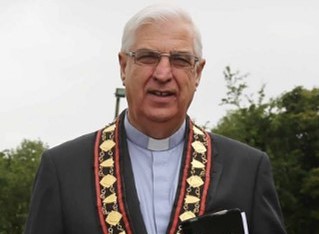 A message from Sovereign Grand Master Rev William Anderson
I would like to take this opportunity to wish members of the Institution in Northern Ireland a safe and enjoyable 'Last Saturday' as we take to the streets to witness for the Reformed Christian Faith and celebrate the centenary of our beloved country.
Of course, our Last Saturday parades are not being held today in their traditional format. Instead of six major demonstrations, we are holding 28 local parades across Northern Ireland – a necessary precaution with Covid still circulating in the community.
The Covid pandemic has been difficult for all of us, so it is a tremendous relief that today we are able to stage parades and Services of Worship – and I pay tribute to all those health professionals, across many settings, who have worked tirelessly to care for the sick and preserve life during the pandemic.
If you are travelling to Desertmartin today, you might be expecting to see me walking at a slower pace, tired from my participation in the Centenary Circuit, the Institution's sponsored walk of Northern Ireland (which finished last night in Loughgall).
Quite the opposite! In fact, you will see me walking with a spring in my step.
Thanks to the hard work of the organisers, and all the walkers and cyclists who took part, the Centenary Circuit has been a tremendous success, raising lots of funds for The Somme Nursing Home in Belfast.
And I found it incredibly energising to meet with so many enthusiastic Sir Knights along the route.
Crossing the finish line last night in Loughgall, where our new headquarters is nearing completion, I felt enormous pride in our Institution, which is bursting with talent, spirit and conviction to spread God's word and the Christian ethos we promote.
And today, we'll show that same talent, spirit and conviction at 28 parades across Northern Ireland.
Have a wonderful 'Local Last Saturday', wherever you plan on going.
Rev William Anderson
Sovereign Grand Master